A Simple GST Enabled Billing POS system for ALL your needs…
Phomello LitePOS is the perfect solution for faster billing and customer service. Phomello LitePOS is indispensable in today's retail and hospitality sectors. It is efficient, easy to use and versatile. Developed by Pegasus, a pioneer company producing POS systems for a wide variety of sectors and applications since past decade, Phomello LitePOS is sure to make operating your business easier.
From the small local restaurant to café's, saloons and spa, from the local taxi service to an international travel agency , no matter what your business is, with Phomello LitePOS app you can have smart POS experience at your fingertips to simplify your day to day billing activities.
Phomello LitePOS app provides a smart and intuitive invoicing solution. Instant tokens, fast billing, staff management, customized taxes on individual items (perfect POS solution for GST) and discount creation, all this can be easily accomplished with one system. LitePOS mobile friendly application is available on both the major mobile platforms i.e. iOS and android. The LitePOS app also support all major types of printers.
Phomello LitePOS is available in two versions i.e. stand-alone and cloud. The cloud version makes it easy to create backup and store the data.
Parking Solution:
Beauty, brawn and brains
Phomello LitePOS delivers everything your workers want, and everything your business needs. Growing parking space issues in India at city streets, municipal offices, hospitals and other public places requires an instant solution. Phomello LitePOS has all the features to keep Parking Payment Systems running and operating efficiently so that there is no loss from down-time, costly maintenance or manual errors such as faulty scans. Phomello LitePOS handheld solution provides instant ticket with QR barcode that allows multiple gates exit while check out. You can also email reservation vouchers and issue discounts or loyalty cards to your customers to gain edge over competitors. Phomello LitePOS allows you to audit trigger events, such as voided tickets, ticket removals, etc. which can also be emailed to administrators.
3G handheld device connects the system with cloud back office with member ship card solution. The Phomello LitePos when fully integrated with Cloud based back-office system allows information to flow smoothly from one database to the other in real time for better control over business.
---
Micro Finance & Payment collection:
Phomello LitePOS Minimize Manageability
Phomello LitePOS provides field collection solution for Government, Banks, Rural Co-operative Banks, Gramin Banks, Chungi collection centers for Nagar Palika and for Corporate payment collection. Phomello LitePOS can be connected with 3G enabled device and easily integrate with all databases such as SAP, Oracle and Dynamics etc.
Agent or employees can carry handheld POS door to door for payment collection from clients. Phomello LitePOS have the option to manage payments and store the list of all clients. Cloud back office enables tracking of agents and devices used for payment collection from clients by agents.
Phomello LitePOS can track agents and enables live tracking of payment collection. Phomello LitePOS is a great solution with minimum cost and rich features for micro finance and payment collection.
---
Bus Ticketing:
Connect bus conductors with your management
Phomello LitePOS provides smart business solution for bus owners and state transports. The prevalent system of manual bus ticketing is cumbersome and time consuming process involving calculation errors and malpractices by conductors resulting in huge losses to travel agencies. Phomello LitePOS automates the entire bus ticketing process making it simple and error free. Create and manage destinations, route codes, bus numbers, bus driver/conductor's name, customer names, fare details, discounts, taxes and much more.
Phomello LitePOS also allows instant ticket printing and secure membership smart card solution. Handheld Phomello LitePos device is easy to use for conductors and payment collection can be managed live in cloud based back office by the management team.
---
Retail Shop:
Instantly start your business and increase profit
Phomello LitePOS is a great solution for Small business owners and Kirana Shops. The lightweight and portable Phomello LitePOS device allows shop owners to manage Inventory, track sales, store vendor contacts and customer details, issue discounts, customize GST tax and email or print digital receipts efficiently. The easy to use Phomello LitePOS device has friendly user interface which minimizes training cost of staff members.
Shop owners and Retail chains can also use the LitePOS system effortlessly by integrating it with their ERP and databases. Cloud back office helps to gain real-time information about inventory, stock levels and customer preferences. Provide a digital experience to your customers and gain their loyalty. Phomello LitePOS is sure to gain you more customers and better return on investment.
---
Restaurant and Café:
Instant visibility into your business
Keeping in mind the current changes put forward by GST, Phomello LitePOS presents a cutting edge POS technology solution for the growth of restaurant business. Phomello LitePOS with features such as GST enabled billing, split check, happy hour pricing, inventory management, recipe management, customer & vendor contact management, menu engineering, discount management and report customization reduce the hassles of manual work and subsequent errors. Phomello LitePOS is ideal for any form of F&B business, be it a restaurant, cafe, bar, bakery, single food outlet or even a multi-chain, multi-brand restaurant.
Restaurant owners and restaurant chains can also implement Dine IN, Home Delivery or Take Away business with minimum investment cost. The restaurant owners can manage staff and sales from any part of the world using Cloud Back office.
---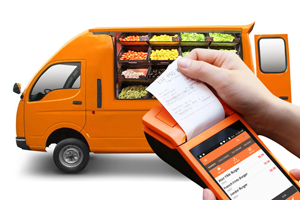 Mobile Vegetable Retail Van Shop:
Affordability meets high-quality
Using robust POS technology, Phomello LitePOS provides a great solution for Mobile Van sales. Rugged and easy to use Handheld devices generates instant sales receipt with other POS functionalities. Manage and store localities, vegetable names and prices, discount rates and tax details. Print instant tokens and receipts for the customers, reduce waiting queue and increase customer satisfaction.
3G data connectivity send live sales to cloud back office with online/offline functionality. Cloud back office makes management of enterprise sales and Inventory easier.
---
---
Showing 0 to 0 of 0 (0 Pages)